Water services for the construction industry
Water services for remediation
We have a range of high volume storage tanks that can be deployed to any site. These are either plumbed into the onsite mains supply so they can be used as a buffer store (occurs in situations where the mains water isn't keeping up with demand), or they are filled continuously using our tanker fleet. The tank is connected to a water pump that is suitable to fill the site remediation equipment and generate the required flow rate.
Water for Soak Away & Percolation Testing
The size and duration of the job dictate the provision for tanks in situations where small amounts of water are required over a number of days. We can also supply water tankers or bowsers to site to provide a bulk water supply.
Temporary Water Services
Temporary water services are required where there are insufficient mains water supplies at the outset of construction work. In this situation, we build a temporary above-ground network of storage tanks, pumps and pipework. This installation can quickly be removed when the developer services team at the local water utility can provide a permanent supply of mains water to the site.
Alternative water services for unconnected or remote location construction sites
In remote areas, it is common that mains water supply will not become available throughout the duration of the construction works. We are able to install a semi-permanent water supply. This is similar to our temporary installations but with heavy-duty equipment that is designed to be used on-site for an indefinite period.
Water for welfare of staff
Welfare water is very important for all construction sites. If your employees or subcontractors can't get a drink or flush a toilet, the working situation is untenable and staff have to be sent home. If you have a mains water supply, we can disinfect your welfare cabins for you, maintaining the quality of water at the point of delivery. We install water tanks that act as a buffer store to ensure the capacity for peak water demands. Where there is no existing supply we can supply your site with a temporary or more permanent solution. If in any doubt about what you need to supply on-site the guidance notes for the construction industry in the form of HSG18 (rev.1) and HSG 46 will confirm your specifications.
Water services for wheel washing
Mud on any road is a menace. On a busy construction site, this is can cause many transport issues. It is common to see wheel washing units being used on UK building sites in an effort to combat the problem. We work with many of the companies supplying this type of equipment across the country. We can supply water tanks (which feed the wash units) where needed, and then continue to top up the water throughout the duration of the project.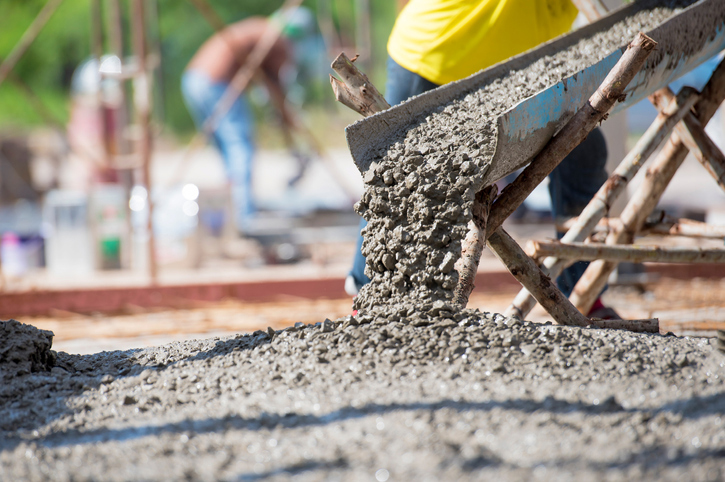 Water for dust suppression
Dust suppression is administered using a high-pressure water mist. When sprayed into the air in an affected area, airborne particles of dust are brought back to the ground level. Spraying a water mist at high pressure ensures the droplets are very small. This means that the water mist will mostly evaporate before it hits the ground. This prevents the formation of puddles. We are able to provide a water supply solution to refill an existing dust suppression unit. Alternatively, we can supply a water bowser that is equipped with a dust suppression pump. It is essential to use a clean, quality assured water supply when the atomising process ensures against any risk of disease spread such as Legionella.
Water services for ballast and concrete mixing
Over the years we have supplied our UK water tanker fleet to pump a supply of water directly into underground storage tanks so that they can be backfilled with concrete.
We have also delivered water to a remote site where a new footbridge had been built over a river. The bridge needed stress testing, but how on earth do you get the usual 1-ton concrete blocks to site across that terrain to carry the work out? Simple… you arrive with a 4×4 carrying a number of 1000 litre water pillow tanks. Spread the tanks evenly over the surface of the bridge, and slowly fill them with water, delivered by another 4×4 with a water bowser. The engineers were able to calculate the loading precisely. Problem solved.
The mixing of concrete requires a clean water service supply. Dirty and contaminated water can seriously affect the quality and structure of concrete.