State of the Art Drinking Water Tanker on the Road as of January 1st 2017
Liquiline is set to take delivery of yet another new tanker trailer, designed and built to their exacting standards by Williams Tanker Services of Morley. The new unit is the second of an order of three, with work due to start on the next trailer mid 2017.
Williams were chosen supply Liquiline with this LAG product because of their excellent build quality (leading to operational longevity) and ease of operation.
Constructed from 316 food grade stainless steel, the unit capable of holding 34000 litres. It has a high capacity 3" stainless steel pump with clean flow valves.
The lightweight chassis will help to reduce tyre wear and lower fuel consumption, especially when used in conjunction with the company's Scania Euro 6 tractor units, which already offer the best mpg in their class.
Liquiline's Robert Taylor said "This tanker trailer will be a fantastic addition to our fleet of dedicated drinking water vehicles. It looks good, portraying the right image to our customers, and offers ground floor operation which provides the drivers  with a safe working environment, not to mention the fuel efficiency it helps deliver, thanks to the clever design.
The new tanker will be used across all the sectors that we supply water to, from civil engineering projects and building sites through to summer sporting events and music festivals."
The delivery of hot water has become a sector in which Liquiline has become somewhat of a market leader. The new tanker is fitted with steam heating coils, which help reach a required temperature, with a layer of insulation ensuring this is maintained during during transport.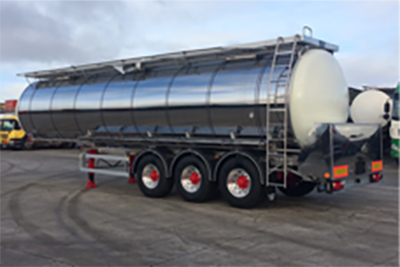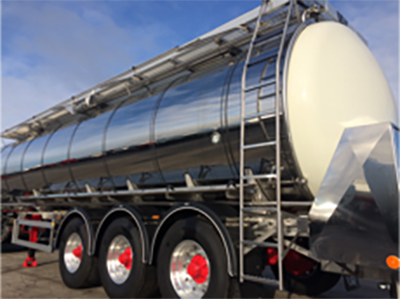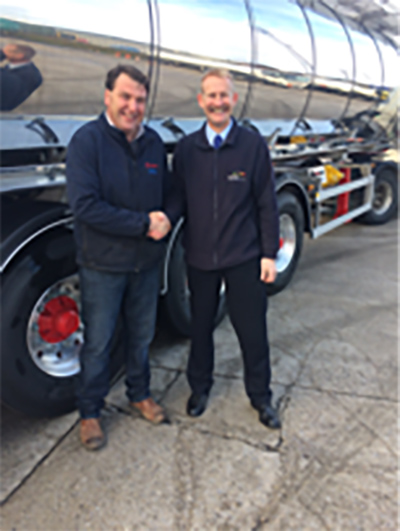 Robert Taylor (left) and Ian McArdle of Williams Tanker
Services
To find out more about the Liquiline fleet please call 0800 1448215